I made it to the Summer Fair! If you haven't checked it out yet head on over, when your done reading please, and see all of the quilts and recipes on the Gen X Quilters website it's a lot of fun and I hope it continues!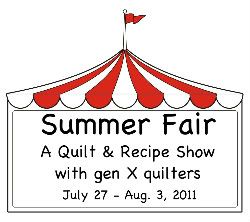 My quilt entry is Ethan's quilt which I just finished but the post I put up was more about events surrounding the quilt rather then the quilt itself. It turned out exactly the way I wanted a fun cheery snugly little quilt.
Ethan is 3 and I knew he liked dragons and there was a mix of colors in his room. I have always love the Castle Peeps line but never had a chance to use it. Of course all that was left at the fabric shop was the Castle Fortress but I love the colors and don't usually go for using all one line in a quilt anyway. For the other fabric I loved the idea of mixing the medieval castles and the modern vehicles and dinosaurs. Finally the Michael Miller Ta Dot's I have wanted to use for a while and were great for the binding and details.
Because I was trying to finish this up for Ethan I chose a simple freestyle linear quilting which I always have fun doing.